APCAV celebrated its 50th anniversary at its summer general assembly on July 26. Approximately 180 participants gathered on this exceptional occasion.  Brigitte Borel, APCAV President, led afternoon, by first speaking about the current situation in Verbier and then about the key current issues and what lies ahead for the future.
She then introduced the speakers.  Bertrand Deslarzes, responsible for culture in the Commune of Bagnes, presented the history of Verbier. Jean-Daniel Martin, honorary president of APCAV, traced the history, and highlights, of the association. Finally, Eloi Rossier, President of the Municipality of Bagnes, spoke about the future of Verbier and the major projects in progress.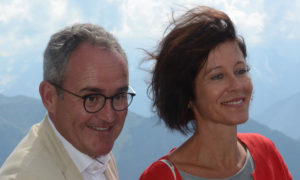 The general assembly of the Fédération Valaisanne des Résidences Secondaires took place before the APCAV assembly and elected a new president, Nicolas Leuba, who is also the vice-president of APCAV.
This radiant day concluded with a festive aperitif at Ruinettes.
Documents:
Address at Jubilee B Borel