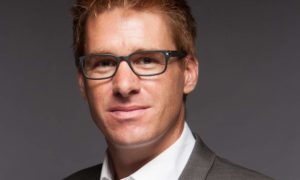 Verbier has experienced an exceptional summer of tourism, with a number of major events and a tremendous increase in visitors to the resort. To support this promising dynamic, the two entities responsible for tourism, Verbier Promotion and the Tourist Office, joined forces several months ago and have now announced the appointment of their new joint director, Simon Wiget.
As a teacher at the Université Savoie Mont-Blanc, an accomplished athlete and the holder of an EMBA in tourist innovation, 43-year-old Simon Wiget looks back at a wealth of experience predominantly in the tourism sector. In particular, he managed the tourist offices of Grimentz St-Jean and then Anniviers for 11 years, before creating a mandated tourism consulting business.
He will gradually leave Atelier Grand et Partenaires, a graphic design and marketing agency he took over two years ago, to assume his new duties in Verbier in January 2020.
He will be supported by the 25 colleagues working in the two teams of Verbier Promotion and the Tourist Office, which have been sharing offices in the centre of the resort for four months now.
Combining the teams responsible for promoting and facilitating tourism under one roof is expected to have very promising results for the resort of Verbier. Although not all of the statistics are yet known, the summer of 2019 will go down in the annals of history for the quality of its events and increase in visitors. Overnight stays in Verbier from May to August, excluding package deals, increased by 30%, while the VIP Pass (Verbier Infinite Playground Pass), which offers advantages to all visitors staying at least one night in the resort, experienced growth of 10%.
The tourist entities would like to thank Pierre-André Gremaud and Joël Sciboz, who managed Verbier Promotion and the Tourist Office, respectively, over the last six years, for their commitment to developing the resort and its numerous activities.
Verbier, 4 November 2019